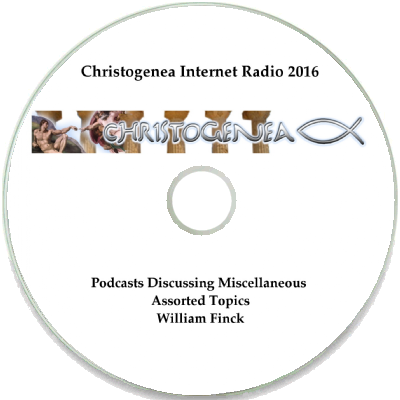 This Christogenea CD contains a collection of assorted Christogenea podcasts from late 2015 and 2016.
Methods of Interpreting Prophecy, Parts 1 and 2

Addressing Feminism, Parts 1 and 2

The Christian Identity Vision with Pastor Mark Downey, Parts 1 and 2

Interviews with Donald Fox and Arthur Lee

Reflections on the Whorlando Homocaust, and Talking Politics to Death, both with Mark Downey

Scatterers and Gatherers, presented at the Fellowship of God's Covenant People

The Importance of the Song of Solomon to Biblical Anthropology

William Finck on the Battle of New Orleans Radio (September 2016)

Clifton Emahiser on his beginnings in Christian Identity, and more...
 Written notes for each podcast are included, wherever they are available, in Open Office Document Format.
Price: US $4.59 Discounted Price for Multiple Quantity Orders: US $3.99
- Plus shipping and handling.